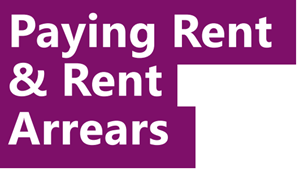 Your rent should be the first thing you pay out of your monthly income. We will support tenants through difficult times. If you're going through financial difficulty, don't struggle alone - contact your Income Officer, who will be able to give you advice on setting up affordable arrears repayment plans and rent direct payments, if you're on benefits. 
11 Ways to Pay Your Rent

Direct Debit: This is the recommended method; it's automatic, free, convenient, and safe. Call us or visit here to set up your direct debit.

Standing Order: Like a Direct Debit, the money goes in straight away, so there's no danger of forgetting. Set it up via online banking

Online: Use your bank, debit or credit card to pay online through secure allpay Internet Payments. All you need is your 19-digit payment number [which can be found on your rent card and rent statement]. You can make payment via our website.

Allpay app: Download the allpay app from the iPhone App Store or Google Play for Android devices. This way you can pay online on the go, via a smartphone or tablet.

Text Message: Visit allpay and register your credit or debit card. When you're set up, you pay by texting 'pay' to 81025, along with the text code you receive, password, and payment amount.

Phone Call: Call the Customer Hub and select the 'Rent' option, then press 1 to make a payment. This is a cheaper option than calling allpay direct.

Post Office: It's free to pay by cash, cheque or debit or credit card at any Post Office using your rent card. Find your nearest Post Office here.

Pay Point or Pay Zone: or Pay Zone Use your rent card plus cash or your debit or credit card to pay anywhere displaying the Pay Point or Payzone logo. Visit www.paypoint.co.uk or www.payzone.co.uk for more information. 

By Post: Send us a cheque made out to Southway Housing Trust with your name, address and tenancy reference number on the back. Don't send cash through the post!

Housing Benefit: If you claim Housing Benefit to pay your rent, you can choose to have it paid direct to us. However, if your Housing Benefit doesn't cover all your rent, you'll need to pay the rest another way.

Universal Credit [Housing Element]: If you claim Universal Credit, and you're struggling to pay your rent, speak to us. We may be able to apply for the housing element to come to us directly [this is called an APA]. If it doesn't cover all of your rent, you will need to pay the rest another way.

Having trouble paying your rent?

Please contact us straight away, no matter how serious things seem. Your Income Officer can work with you to manage your arrears and set up affordable payment arrangements.

Have Rent Arrears?

Did you know you can avoid court action and additional costs by arranging to pay as little as £3.70 a week?

By sticking to the arrangement, you will avoid the risk of losing your home.

*Depending on your household income. This figure is set by the courts for those on Benefits, we may recommend you pay more to manage your arrears. However, we're committed to reaching an affordable repayment agreement with you and will never ask you to pay more than you can afford [based on your financial statement].