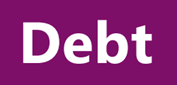 The drawback to borrowing is the risk of getting into debt. We talk to people struggling with debt all the time, and our advice is not to ignore the problems - help is always available.
Beware loan sharks

Anyone who lends money without paperwork or a contract outlining what is owed, what will be paid in total, and what level of interest is being charged, is operating illegally.

Loan sharks often prey on the most vulnerable, who have nowhere else to turn; intimidation and even violence can be used to make sure people pay.

Report any such activity anonymously to the Illegal Money Lending Team on 0300 555 2222.

Debt advice

From one-off advice to full casework, our specialist Debt Advisor can help you manage debts, confidentially.

Rent arrears
Council Tax
Utilities
Water rates
Bank debts
Catalogues
Court fines
Hire purchase
Doorstep and payday lenders
Credit cards

We can contact creditors and negotiate with those you owe - we know the law and the options available and are listened to by the credit industry.

We can also supply information about other agencies and provide template letters for you.