We were honoured to be asked by Manchester Women's Aid to take part of a collective campaign this week which calls on businesses to help End Violence Against Women and Girls.
From Monday 25th November to Tuesday 10th December, 17 Manchester charities and organisations are making their voices heard through a creative campaign centred around Emmeline Pankhurst's statue, Our Emmeline, in St Peter's Square.
Each day of the campaign a new organisation will dress Emmeline in clothing representing a different job role, as a reminder of the campaign's objectives and the call internationally for change in the workplace.
The campaign intends to be creative and inspiring, but its messages are serious. By collaborating with other organisations through a shared message, we were pleased to be able to help play a part in amplifying it.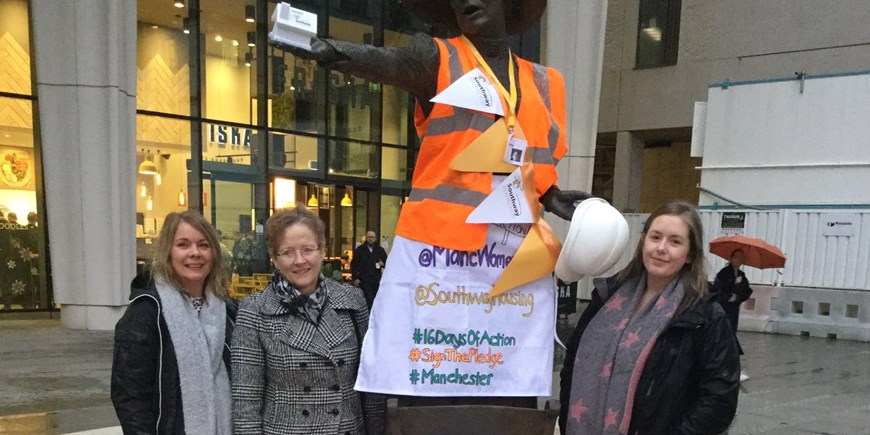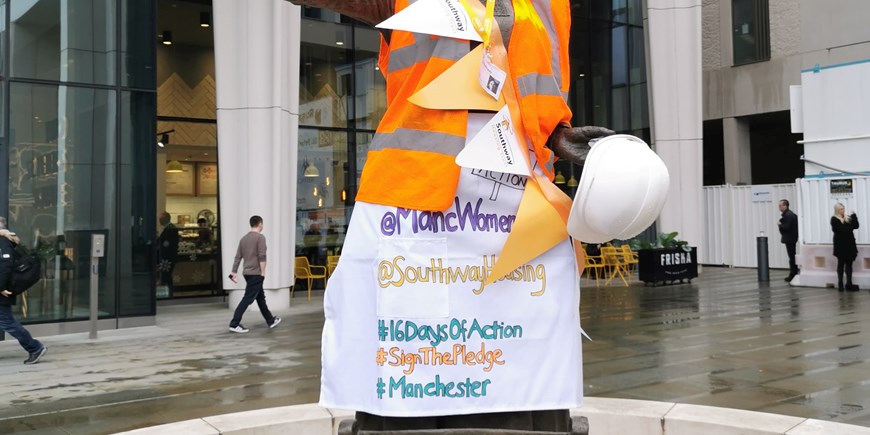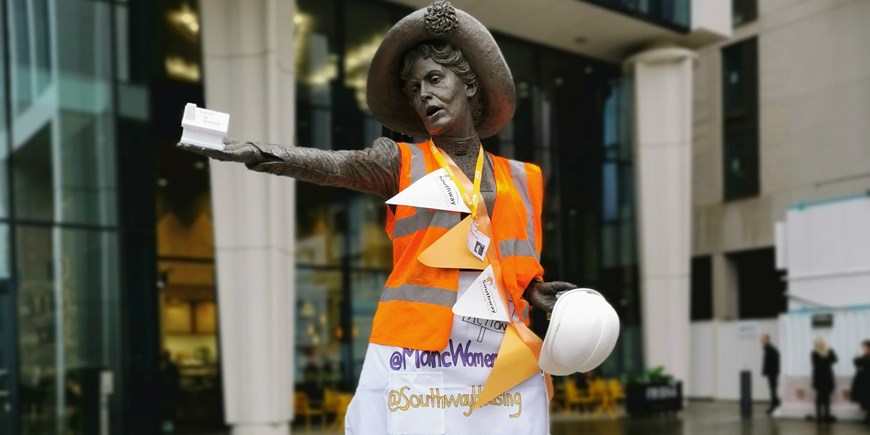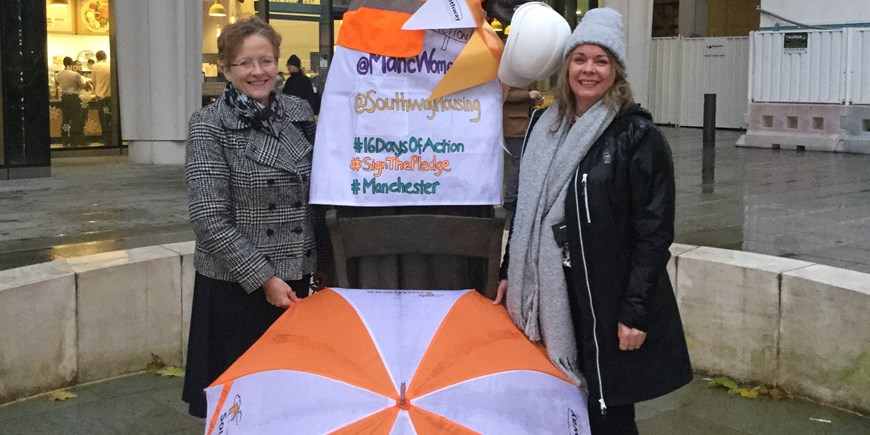 Our Chief Executive Karen, and Community Action Officers Caroline and Freya took part earlier today, dressing Emmeline Pankhurst in Southway's uniform to represent women in housing and construction.
It was an honor to be invited, especially as the campaign's messages resonate with Southway's own mission to safeguard and support victims of violence and Domestic Violence in our communities.
"I am delighted that Manchester charities and organisations have joined forces to support the 16 Days campaign and that Manchester, a city of firsts and progression, is taking a leading role globally. We hope by taking this creative campaign to the heart of Manchester and by linking to Emmeline Pankhurst, as a female icon of the city, we'll be able to raise awareness of the call for organisations to demonstrate their commitment to the global fight against domestic violence and violence in the workplace. We want to prompt discussion and urge change."

Gail Heath, CEO of the Pankhurst Trust, which incorporates Manchester Women's Aid
"I am immensely proud that Our Emmeline can be a force for bringing campaigners of today together. The 16 Days 2019 campaign has such a strong message for the business community to support its workforce and make a real difference to those suffering domestic violence, and it's great to see Manchester's charities working together to seek this change."

Hazel Reeves, sculptor of Our Emmeline
Get involved
You can follow the campaign on Twitter via the hashtags #16DaysOfAction #SignThePledge #Manchester.
You can find further information on how businesses can make a pledge here: www.16daysofaction.co.uk/sign-the-pledge
Other charities and organisations taking part:
Manchester Women's Aid
Saheli BAME Women's Project
Independent Choices
Greater Manchester Rape Crisis
Sheikh Nazim Helping Hands
Safe Spots Wythenshawe
LGBT Foundation
MACC
Barnardos
Manchester Mind
Cheetham Hill Advice Centre
CM Boggiano Lurig Ltd
Southway Housing
Manchester Poverty Truth Commission
Kenworthy's Chambers
The Pankhurst Centre
The Zebra Partnership