Urgent Deadline: Apply for Pension Credit by Thursday 18th August 2022 to claim your £650 Cost of Living payment. Apply here.
Older Southway tenants and their families, friends and carers are being urged to check if they are eligible for pension top up payments after figures revealed 36,000 qualifying households in Greater Manchester are missing out on around £70million a year in unclaimed pension credit.
5Pension credit is a benefit designed to bring the weekly income of pensioners up to a minimum amount and could make those who are eligible £34 a week better off on average - with some people able to claim much higher amounts.
Greater Manchester Housing Providers, a partnership of 24 social housing providers including Southway, and the Greater Manchester Combined Authority, through its Ageing Hub, are encouraging people to take up pension age benefits as part of their Pension Top Up campaign.
The campaign, also supported by Independent Age, Age UK and Citizens Advice, also encourages younger people to ask older family members, neighbours and friends to check if they might qualify for more income, and to know how to get help if needed.
Southway tenants claiming or soon to start claiming a state pension, their families and friends can call our Advice Team on 0161 448 4200 or contact us by filling in this form.
The squeeze on living standards caused by rising inflation and high energy bills has made it even more important for people to check if they are entitled to pension credit, attendance allowance and housing benefit.
In addition to extra income, receiving pension credit also unlocks other financial benefits such as a free TV licence for over 75s, council tax support and grants for insulation and other green home improvements.
Attendance allowance, which people can claim if they have certain disabilities or medical conditions, can also unlock access to further benefits, including support with housing costs.  
"For many people, that bit of extra income can make a crucial difference between struggling to pay the bills and living more comfortably. With more households struggling to meet the cost of living, we urge people to find out if they are eligible for pension credit and other support."

Karen Mitchell, Chief Executive of Southway Housing Trust and Greater Manchester Housing Providers' Ageing Well Lead
Research also suggests that the estimated cost of unclaimed pension credit to the Greater Manchester health and social care sector is as much as £180million a year. 
Andy Burnham, Mayor of Greater Manchester, said: "With so much pressure on household finances, it's vital that older people are getting all the money they are entitled to. A third of those eligible for pension credit in Greater Manchester aren't claiming, with many missing out on income from attendance allowance and housing benefit too.
"If you own your own home or have a private pension you could still be eligible, so please take a moment now and check – for yourself or your loved ones. It's going to be another tough winter and getting this top-up could make all the difference." 
View the gallery below for examples of how you can benefit from a Pension Top up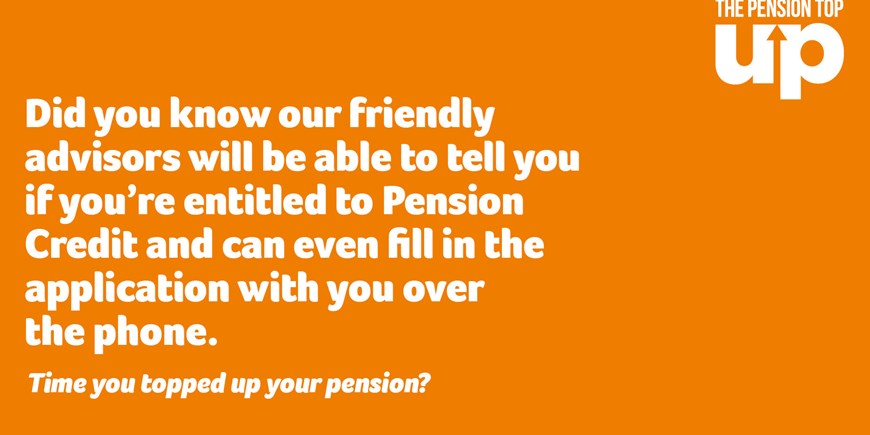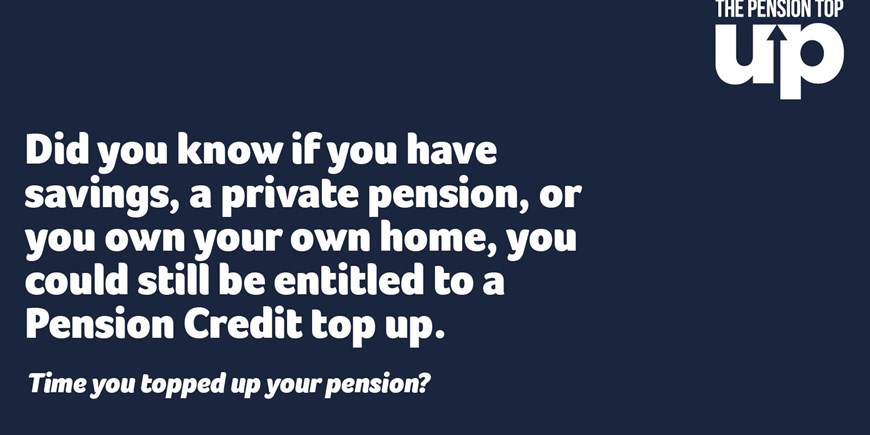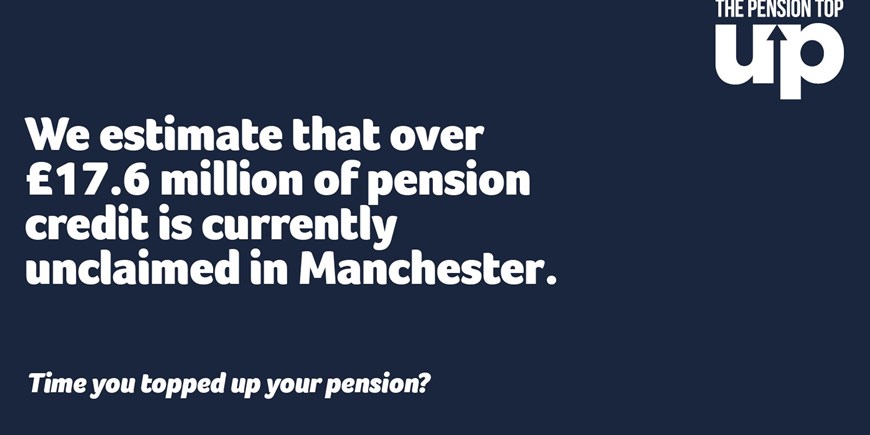 Over the last year the campaign has generated £3m of additional income to residents that can be directly evidenced, though the true figure is thought to be much higher.
As part of this work, GMCA also researched the reasons why people tend not to claim. Barriers include people not realising they are eligible and also and apprehension about the application process. 
This is where our advice team can help. Please get in touch with us and we will support you to see if you can claim and how much you might get.
View the gallery below to see how people have benefited from a Pension Top up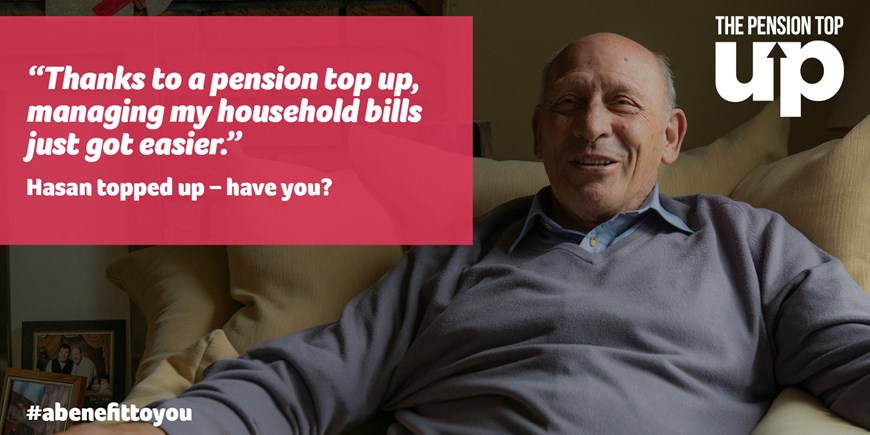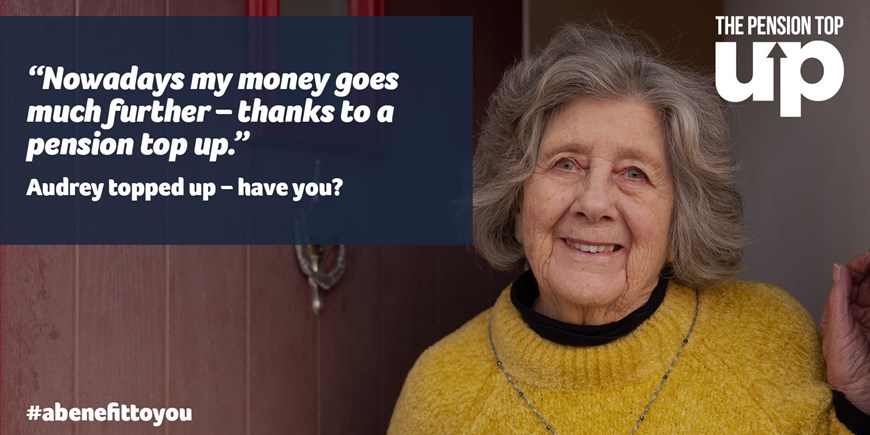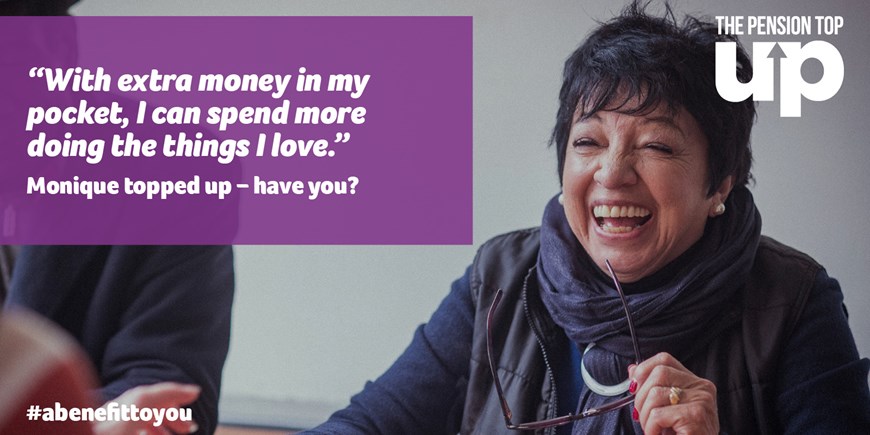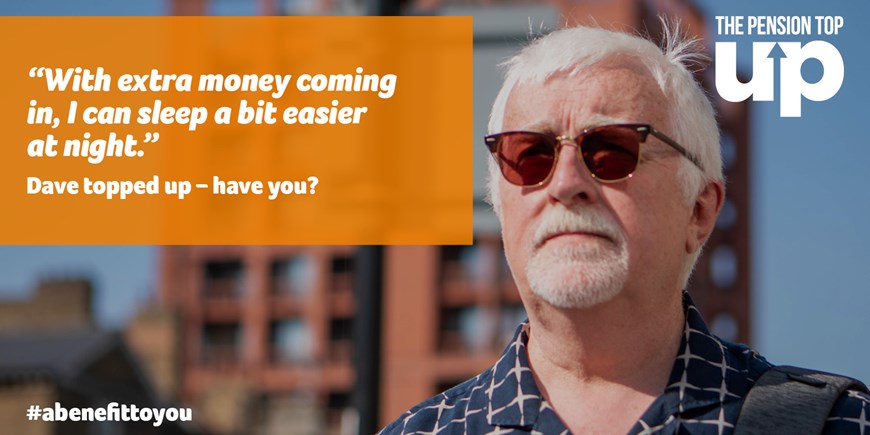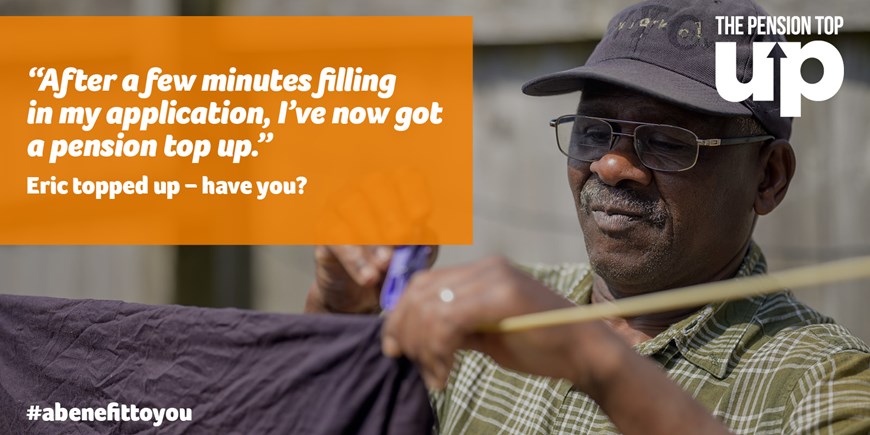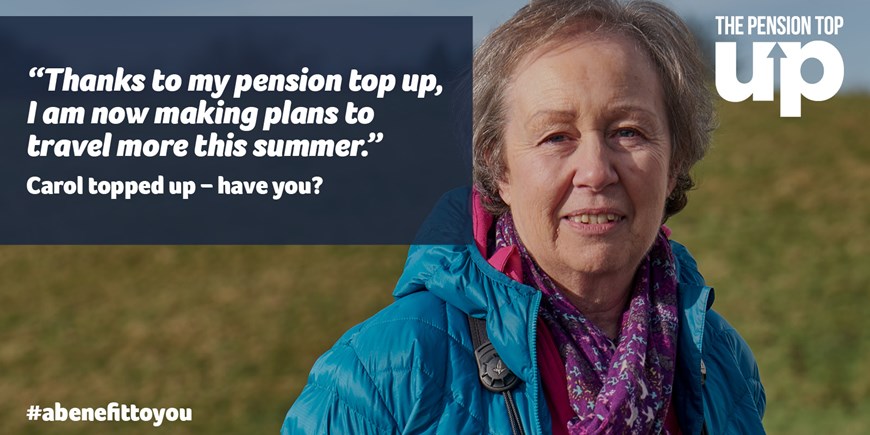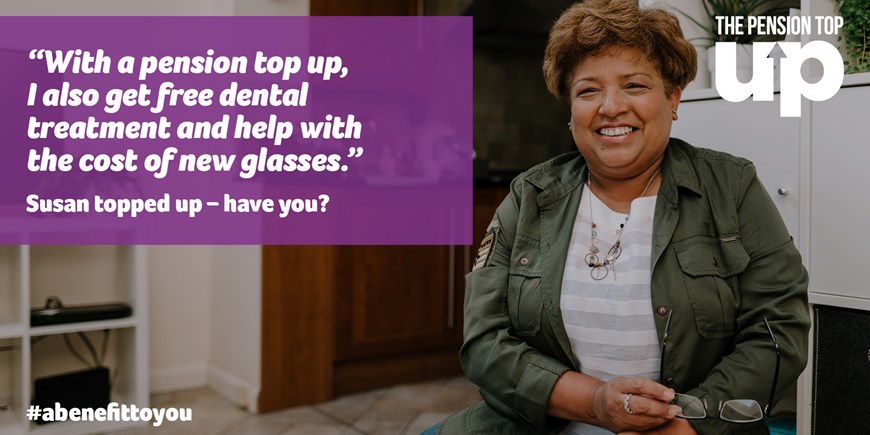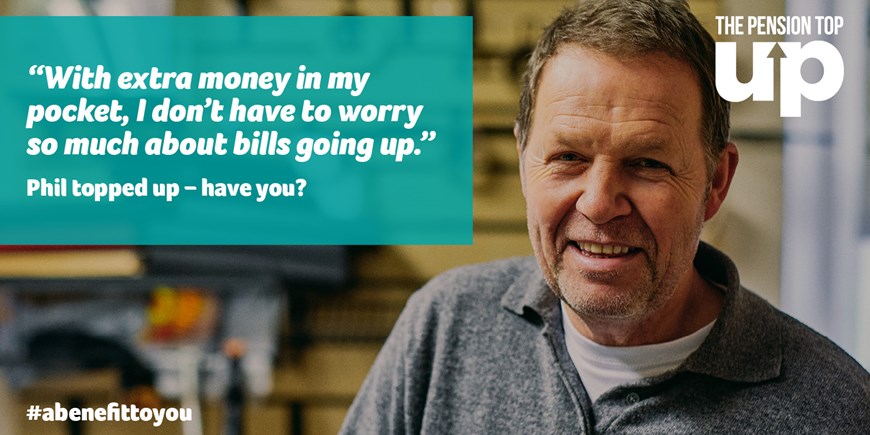 Karen Mitchell added: "We also discovered that some people are worried that claiming might impact other benefits they receive. However, qualifying for pension credit often prompts more financial support and people also find out there are other benefits they are entitled to but not claiming."
Jean*, aged 86, from Gorton, said: "Pension Credit has helped me with lots of the costs including food, clothing and bedding. My son helped me fill the forms out – I wouldn't be able to do it without his help."
This is also the perfect time to have a chat with older relatives, friends and neighbours, and either ask or help them to check if they quality for Pension Credit. With the recent cost of living increases, it could make all the difference and it's important they know that their housing provider and Independent Age are here to help.
*Name has been changed. 
Pension Top Up 2022: Real people's stories about how it can help

Brian's story:
Brian's wife had recently passed away and he had various chronic health issues including struggling with his health. As he was only in receipt of state pension, Brian's housing provider completed a benefit entitlement check on his behalf. This highlighted a pension credit entitlement, as well as potential entitlement to Attendance allowance due to his disabilities. Brian was awarded Attendance allowance of £89.60 per week, £10 a week increase to his state pension and £69 per week in pension credit. The payments were backdated, to the date of his claim. Brian said: "I cannot thank my housing provider enough for highlighting my entitlement to pension credit and my claim for Attendance Allowance. If they hadn't got involved, sent off the forms and guided me through it all, I would not have been able to do it myself. It just wouldn't have got done and I would still be really struggling financially."

Brenda's story:
Brenda had reached state pension age and was worried about how she was going to pay her bills. After being referred by her housing provider's tenancy sustainment team, her housing association completed a check which showed an entitlement to pension credit of £60 per week. The team helped Brenda to apply for pension credit and also submitted a claim for housing benefit alongside this, which has put her a much better financial situation.

Frank's story:
Following a long-term hospital stay, Frank was referred to his housing provider's money advice team for a benefit entitlement check. At the time his only income was his state pension. Due to his disabilities, he was relying on family to friends to take him to appointments and helping around his home. The money advice team managed to maximise his income by applying for both Attendance allowance and pension credit, meaning an increase in income of £124.80 per week. This enabled Frank to purchase his own small car and regain some of his independence.

Christina's story:
Christina was referred to her housing provider for help with an Attendance allowance application. Christina was in receipt of state pension and a small amount of pension credit but because she lived alone, if her claim for Attendance allowance was successful, she would be entitled to a severe disability premium as she had no one to claim Carers Allowance for her. Christina's Attendance Allowance claim was successful. Support was then given to Christina in contacting the pension service and her pension credit was increased by an extra £60 per week. Christina said that without support, she would not have known about the increase in her pension credit linked to her Attendance allowance claim. She is now £121.85 better off per week and doesn't have to worry about putting her heating on.
 Greater Manchester – Estimated breakdown of unclaimed pension credit by area  
| | | |
| --- | --- | --- |
| Locality | Estimate Pension Credit unclaimed | Estimated eligible households not claiming |
| Manchester  |  £17.6 million | 7,477  |
| Bury | £4 million | 2,175 |
| Bolton | £7.9 million | 4,017 |
| Oldham | £5.8 million | 3,033 |
| Rochdale | £5.6 million | 3,075 |
| Salford | £6.3 million | 3,473 |
| Stockport | £5.8 million | 3,156 |
| Tameside | £5.2 million | 3,042 |
| Trafford | £4.6 million | 2,298 |
| Wigan | £6.6 million | 4,192 |
How to apply
To claim Pension Credit, you can apply directly through the Government website here or phone the Pension Credit claim line directly on 0800 99 1234.
To apply, you'll need:
Your National Insurance number
Information about your income, including your pensions
Details of your savings and investments
Your bank account details
If you're a Southway tenant, our Advice Team are on hand on 0161 448 4200 if you have any questions or need help applying for Pension Credit or any other welfare benefits. 
For even more information about Pension Credit, Independent Age have a handy factsheet you can download here and a FREE helpline you can call on 0800 319 6789.