Please note that the Kickstart scheme has finished and applications for these roles are no longer being accepted.
Young people are being helped into the world of work by being given career development opportunities at Southway Housing as part of a Government scheme.
The Kickstart programme funds paid six-month work placements for people aged under 25 who are claiming Universal Credit and are at risk of long-term unemployment. People in this age group make up more than half of those in the UK looking for a job.
Southway is currently supporting five youngsters working in a variety of departments across the organisation, ranging from Communications to the Property Services team, and is now offering several additional opportunities to take part.
One of the first beneficiaries is Miles, who has secured a permanent role in Southway's Human Resources team even before he had completed a six-month placement with the Governance department.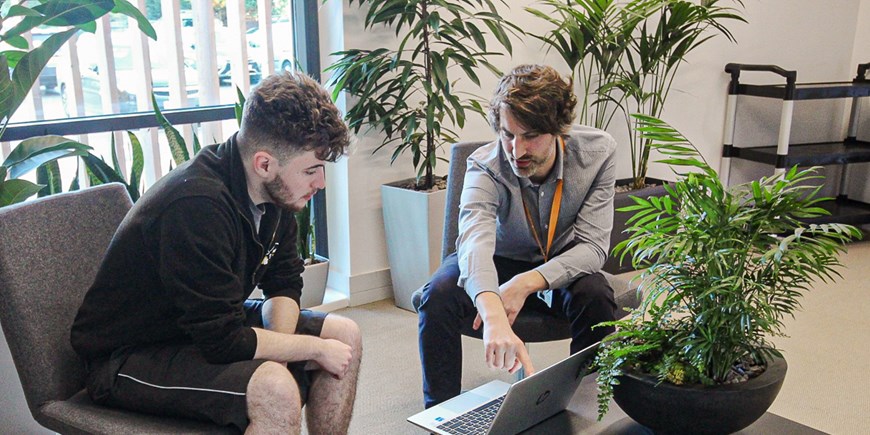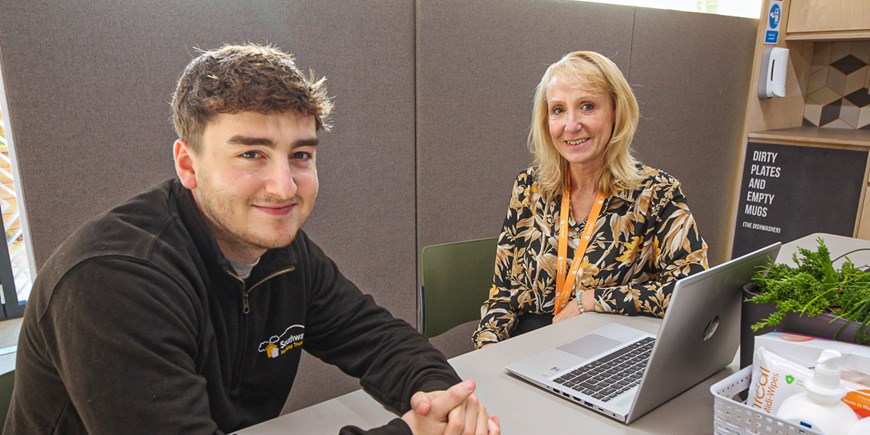 Iain McGowan, Business Network Support officer at Southway, said: "Miles' journey began as a very capable individual who hadn't previously experienced working in an office environment and so he was initially quite reserved. However, with the support given by his team and in weekly one-to-ones with Southway's Employment Support Officer, we soon saw him blossom and develop.
"He identified his own development needs, attending courses to strengthen his IT skills and embraced the exposure of contributing on team calls and in group Kickstart sessions. All feedback for Miles has been really positive and the way he really thrown himself into the Kickstart Scheme has paid off as he continues his career with Southway in a permanent role." 
"I've found the Kickstart course to be a really beneficial experience and over the six months, I picked up many valuable skills to carry forward in my career. I am also fortunate to be able to continue my employment at Southway in a permanent role. This was definitely made more possible by my involvement in the Kickstart scheme and the help I received from my work coaches and mentors."

Miles, former Kickstart trainee
The key to the scheme's success has been Southway's dedicated weekly one-to-one support, helping the participants think consciously about the skills they are developing and how this can be used in CV and interview scenarios. They are also encouraged to self-assess themselves so that they can see tangible development over time.
 Iain added: "The scheme gives us a great opportunity to invest our time and support in helping develop youngsters, so that they end the six months in a stronger position of employability than when they started - and always with an eye on further employment opportunities at Southway.
 Another beneficiary of the scheme is Sean, a Trainee Commercial and Leasehold Assistant, who said: "The Kickstart scheme has been a brilliant way for me to start a new career. I came from a very different working background but I have been made to feel comfortable by the whole team. Any questions I have are always answered and any support needed is given. I am thoroughly enjoying the process."  
"I have thoroughly enjoyed my placement so far. I receive excellent support from my managers and one to one support from the employment team. My placement has been a great opportunity to learn new skills in a field I wanted to work in but did not have experience in. With the experience I have gained, I feel well equipped to start working in an industry I thought I did not have a chance of getting into. I would definitely recommend Kickstart placements with Southway to anyone wanting to gain experience in something new and to get on track for a long-term career."

Courtney, Communications Team Trainee Assistant
Kickstart your career at Southway
If you would like any more information about our new Kickstart roles at Southway you can contact our Employment team or your Job Coach. Southway customers can also access a wide range of free advice and support on Employment, skills and training - including our current vacancies.
Please note that the Kickstart scheme has finished and applications for these roles are no longer being accepted.
About the Kickstart Scheme
Kickstart is a national programme providing funding from the DWP to create new jobs for 16 to 24-year-olds who are claiming Universal Credit and are at risk of long-term unemployment. Employers of all sizes can apply for funding which covers 100% of the National Minimum Wage (or the National Living Wage depending on the age of the participant) for 25 hours per week for a total of six months. Find out more here.