This week we are joining others in the sector across the UK to recognise our briliant apprentices for National Apprenticeship Week.
Southway has benefitted from the work of apprentices since the company began ten years ago. Primarily we have offered traditional apprenticeship roles in the construction industry. Property Services currently has 7 apprentices including electricians, plumbers, joiners and a heating engineer. Our Heating Engineer Hannah is championing women in this industry!
We've seen such value from our apprentices that over the last year we have rolled out many more apprenticeships across our central business services. We now have Hannah in Finance, Penny and Matt in Development, Danielle in HR and Kieran in the Governance team.
Apprentices, and the learning they bring from their qualifications, help to shape the company's work culture and enable us to build a workplace of innovation, which is one of the core values we hold at Southway.
These apprentices are all in their first year. Here's what they (and we) think of their apprenticeships:
National Apprenticeship Week 2019: Southway Housing Trust from Southway Housing on Vimeo.
To wrap up the campaign week, we caught up with Jamie and Freya, who started at Southway as apprentices in 2013! Today they are our Age Friendly Project Assistant and Housing Officer. It's brilliant when apprentices chose to stay and we benefit from their qualifications and experience: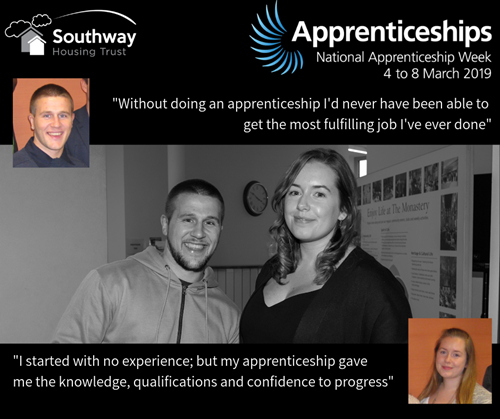 My apprenticeship helped massively to get me where I am today! Not only did I get the opportunity of achieving a qualification in Housing Practise, it gave me the stepping stone needed to work in the sector once I left Southway. Without this opportunity I'm not sure what I would've been doing but it definitely helped me realise what career path I'd like to take. When I first left Southway I moved to a 16-bed hostel in which I was supporting young vulnerable adult to teach them how to manage their own tenancy independently, which was the most fulfilling job I have ever done, and without my qualification I would not have been given that opportunity. I'd definitely recommend it!

Jamie, Age Friendly Project Officer
When I started at Southway, I had no experience in the housing sector. My time as an apprentice enabled me to gain the confidence, knowledge and qualifications I needed in order to progress within the company. I have now been at Southway Housing for 6 years and the majority of this time I have worked as a Neighbourhood Officer. I would really recommend an apprenticeship as it allows you to earn a wage as well as developing your skills and experience in a particular industry!

Freya, Housing Officer