It's National Apprenticeship Week, an opportunity to highlight the amazing work apprentices do and the benefits they bring to businesses. This year's theme is Look Beyond, a call to challenge stereotypes associated with apprenticeships. To celebrate this, we spoke to two of our Development apprentices, Penny and Matt, to get a better idea of who they are and what they do at Southway. 
How would you describe your apprenticeship in a sentence?
PENNY: A valuable and constructive job role supplemented with an interesting degree.
MATT: A rare opportunity to study at such a high level and especially in this particular industry, it is very challenging but equally rewarding.
What does your typical week look like?
PENNY: No 2 weeks are the same, as schemes grow and develop you can expect new tasks and challenges. Some weeks I'm at my desk every day and some I'm constantly on the move. My one constant is university every Wednesday where I study Property and Real Estate. My job consists of anything from scheme progress meetings, property viewings for our acquisition programmes and meetings with councillors, solicitors, architects, contractors, suppliers and internal teams - to name a few.
MATT: The best way of describing a typical week is that there isn't really one at all! My role in development comes with a wide variety of responsibilities and challenges, so no day is the same as the last. In one week, if we aren't in the office , we may have as site meetings, survey attendance, public consultation events, property inspections, site investigations and more. The variety of the job plays a big part in keeping me motivated.
When did you realise that an apprenticeship was for you?
PENNY: I originally intended to attend university full time to study Business Management, however I wanted to start a career as well. I got a job in Southway's Sales Team before moving to Development where I began a degree apprenticeship.
MATT: I'd also planned to go to university to study Criminology, but I had second thoughts when considering student debt and the potential struggle to find a job after graduating. After this, I began searching apprenticeships, which for me felt a much safer option, and the assurance of belonging to an industry while learning your vital skills was a green light for me. It also gave me the opportunity to look into industries and sectors I had not even so much had considered before.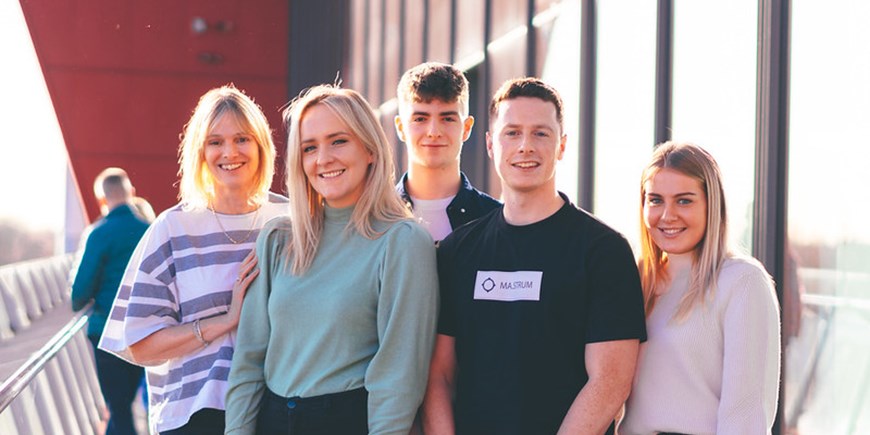 Matt (centre) and Penny (far right) with some colleagues at our 2019 staff conference
What's the most valuable thing you've learned so far?
PENNY: Always ask questions and don't be afraid to challenge or negotiate.
MATT: The most valuable thing I have learned and is the development of personal skills such as confidence, organisation, presentation skills etc. which can't be learnt in any other way than first-hand experience.
Looking to the future, what do you hope to do when you complete your apprenticeship?
PENNY: I hope to have a successful career in Development and become Chartered.
MATT: I hope to continue as I am, further developing my skills and ability in the Development Team at Southway. Ultimately, I believe I will be working in the Industry of the Built Environment for my entire career.
What advice would you give to someone thinking about starting an apprenticeship?
PENNY: Time management! Otherwise prepare to lose all your weekends to assignments.
MATT: It's important to really take the time to search all possible options and levels of apprenticeship. There's a misconception that apprenticeships are only for careers based around manual labour and I was really surprised of how much some of the programmes vary, and in what industry and level they are offered at. 
We're very proud to have Matt and Penny as apprentices and of how far they've progressed. To find out more about National Apprenticeship Week, visit the Gov.UK website and sign up for our job alerts to get updates on the latest work and apprenticeship opportunities at Southway.