Southway has teamed up with The Big Life Group to deliver 'Be Well', a new social prescribing project aimed at improving the well-being of Manchester residents through a holistic and non-clinical approach to healthcare.
The Be Well partnership, which also includes Pathways, Citizens' Advice Manchester, One Manchester and Wythenshawe Community Housing Group, wants to help people find a way to live and feel well whatever life brings, by offering support with:
Work worries
Money worries
Housing and difficult living situations
Family issues
Long term heath conditions
Smoking too much
Stress, loneliness or if you're feeling a bit low
Who is it for?                                                                            
Be Well is for anyone living in Central and South Manchester, or whose GP surgery is based there. It is free to all, near to home and personal.
What does it prescribe?
Social prescribing allows healthcare professionals to refer patients to appropriate services in the local community. Offered as alternatives to medical treatments, these can be anything from exercise classes and illness support groups to volunteering organisations. The non-clinical aspect aims to empower the people who use it, because they can explore the services available to them and have greater control over the methods they use to improve their mental health and physical well-being.
Be Well is the first example of this sort of service being commissioned in Central and South Manchester, so we are excited to see how the initiative improves Manchester's health and well-being outcomes.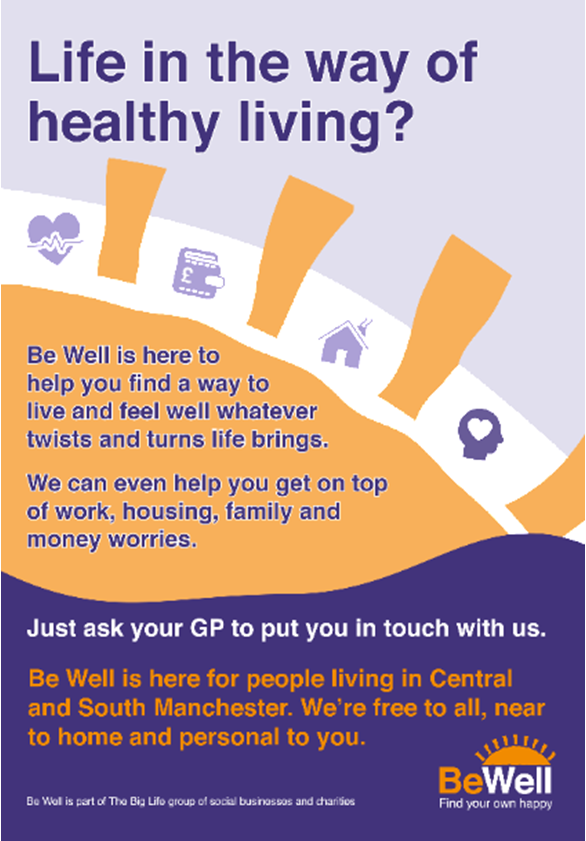 Want to use Be Well?
If you need support with any of the above, simply ask for a referral from your GP. The Big Life Group will then connect you to the specialist service who can best support your needs.
Southway is currently helping deliver the employment support element of the service with two 'Be Well' specialist employment coaches, Kara Grant and Carl Bacon, who are based at our offices for the next two years.
If you would like to discuss how 'Be Well' can assist you in seeking employment, or other work-related issues, please don't hesitate to get in touch with us.
Whatever it is you're struggling with, the 'Be Well' programme can help you take the first steps to greater health and well-being.