Today we're extremely proud of Catherine, our Head of Corporate Finance, who was shortlisted as a finalist for 'Mentor of the Year' at last night's Housing Heroes Awards.
As the criteria for the category said: Good mentoring is the key to making sure skills and knowledge are passed on to others.
This award recognises someone who has nurtured and inspired others - helping them to thrive. The award is open to anyone who has developed another person to grow in their role. We're looking for someone who does outstanding work, and helps others do the same.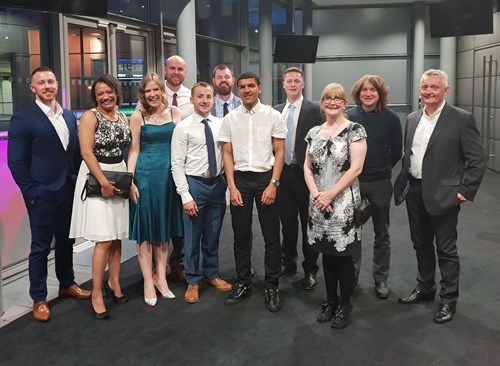 Catherine, third from left, supported by other Southway staff.
We know Catherine has fulfilled this throughout her mentoring work at Southway, helping inspire others in her team and across the business to reach their potential; and we're glad she's received the recognition she deserves from the sector. Congratulations Catherine!
Congratulations, too, to all of the award winners and nominees. We think the housing sector has so many unsung heroes behind the scenes, and it's important that we recognise each other every once in a while! Here is the full list of winners.