We are carrying out a major survey of every tree that currently exists on Southway properties and open spaces – including those in your gardens.
Over the next four months, our contractor Urban Green will be undertaking a visual tree survey and audit throughout our estates and developments.
The survey will ensure that we meet our obligations under health and safety laws by identifying any specimens that might potentially pose a danger to people or properties.
It will also help us to plan our future tree maintenance programmes and also play a part in shaping our environmental and zero carbon projects and future tree planting initiatives.
The work has started this week with inspections of trees in communal areas and public open spaces, before moving onto the gardens of every Southway home later this month.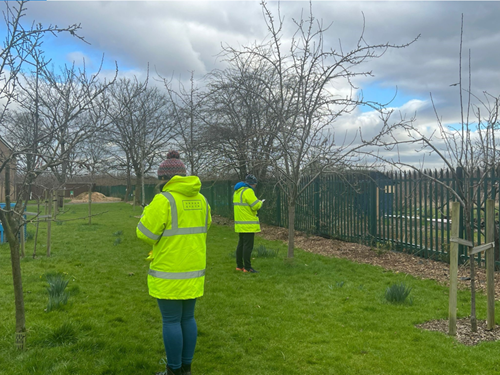 The five surveyors from Urban Green will visit every garden to identify any existing trees, record visual characteristics and measurements and, where necessary, make recommendations for any future works.
They will need to access your gardens to carry out these inspections but will not need to enter your home .
For your safety and peace of mind
The surveyors will wear branded Urban Green clothing
They will all have identification badges which will include their names and both the Urban Green and Southway logos
They will have a letter of authorisation from Southway Housing Trust.
The named Urban Green surveyors who are visiting gardens are:
Elizabeth Anderson (lead arborist)
Andy Bagshaw
Robert Hickey
Only these named people will call at your address. If you are still unsure about the identity of someone calling at your home and saying they are from Southway or Urban Green, you can call us on 0161 448 4200 for verification and further advice.
To further help you identify the survey team and verify that they are who they say they are, you can view their pictures in the gallery below.
We hope that tenants will support this survey, which will help us to improve the environment, quality of life and safety of everyone in our neighbourhoods.