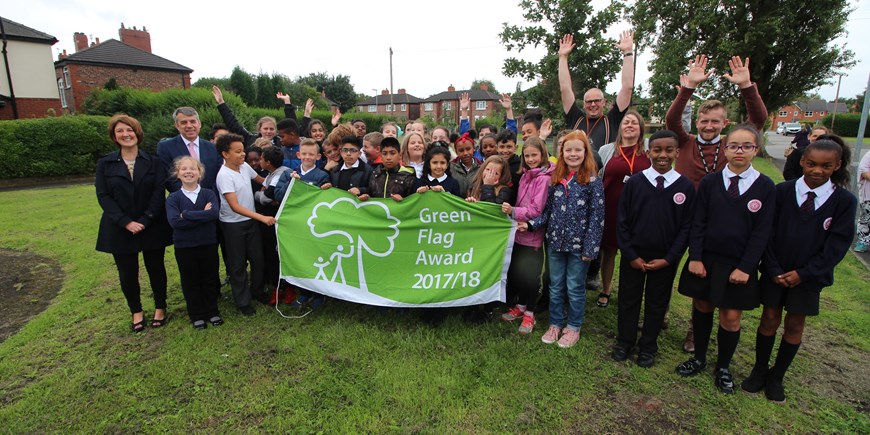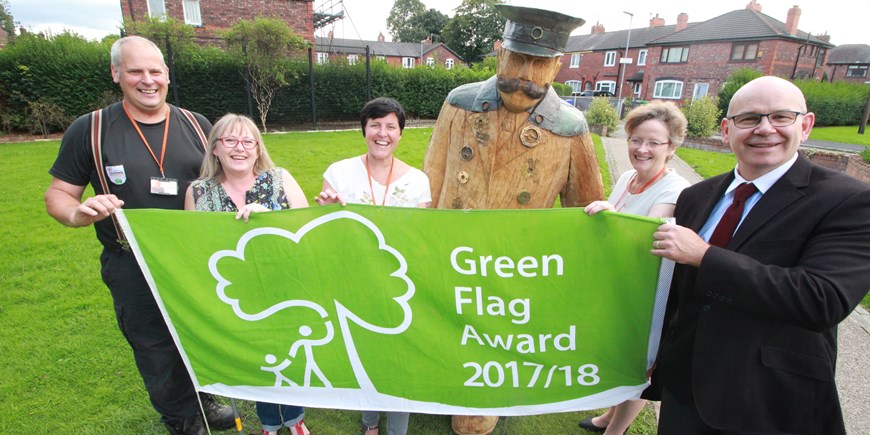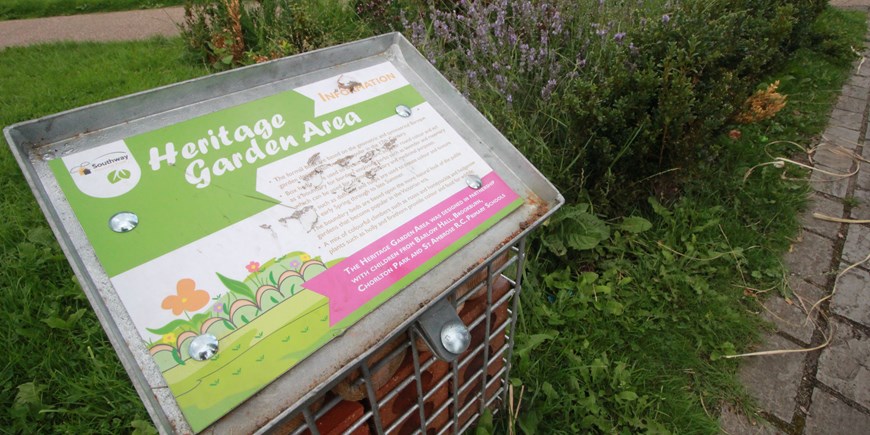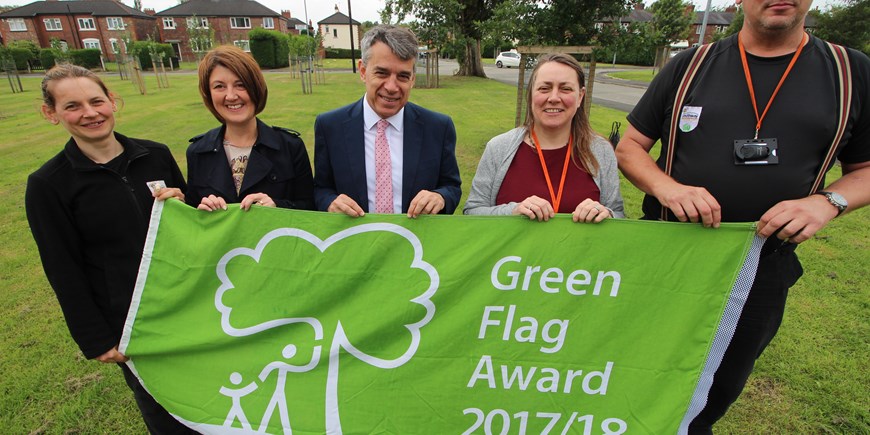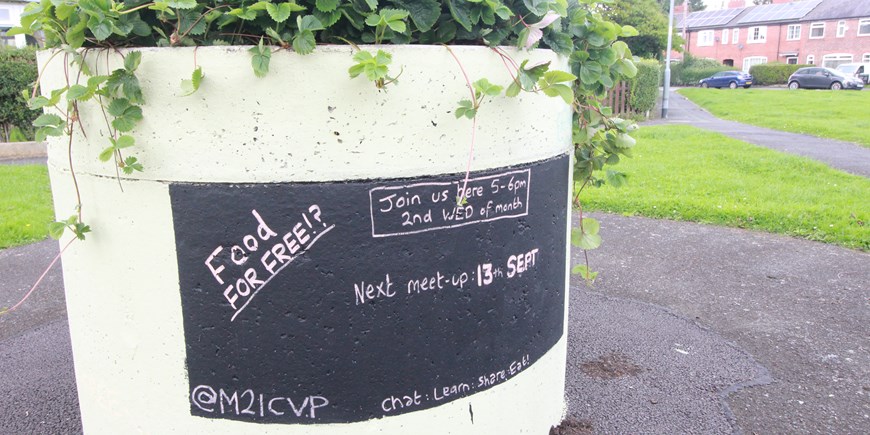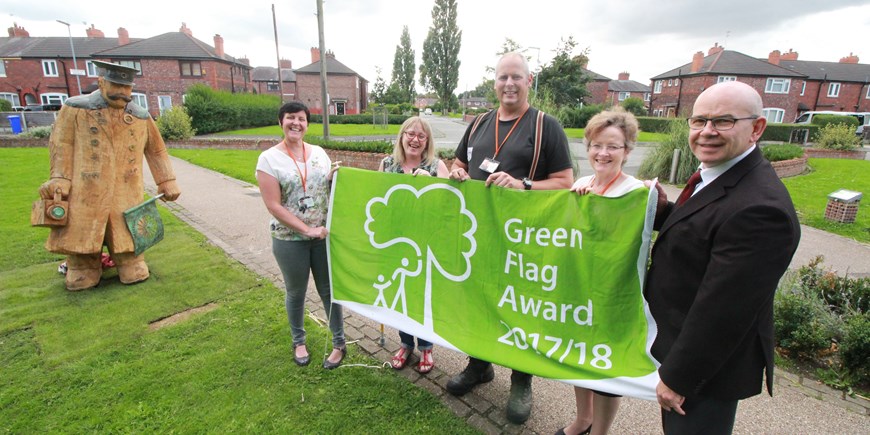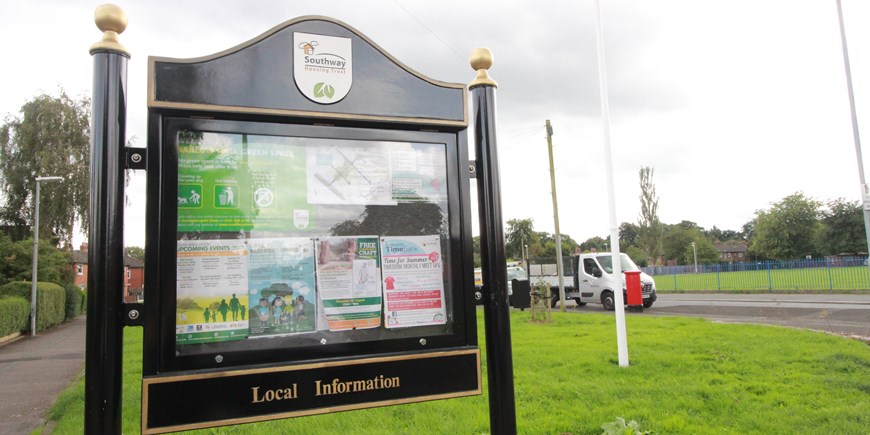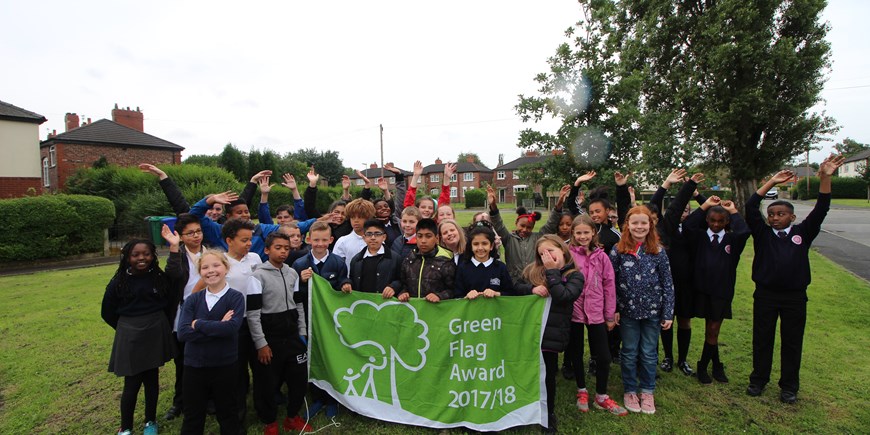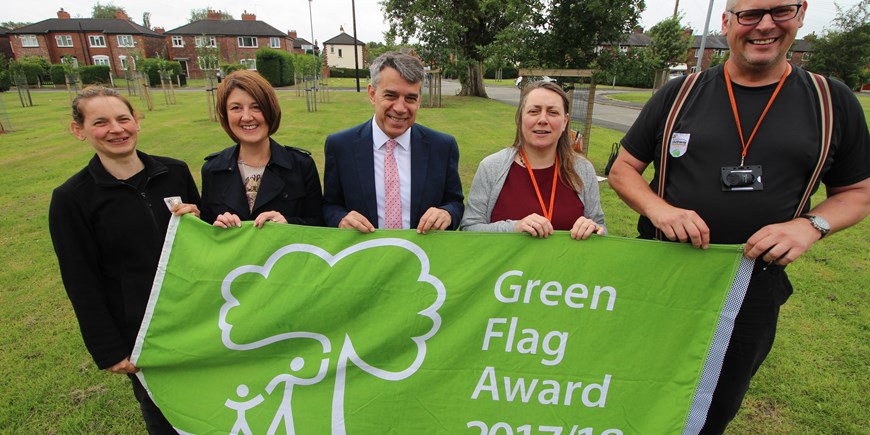 Barlow Moor Green Space in Chorlton has been recognised by the Green Flag Award Scheme as one of the very best in the world.
The green space is among a record-breaking 1,797 UK parks and green spaces that this year received a prestigious Green Flag Award – the mark of a quality park or green space. This international award, now into its third decade, is a sign to the public that the space boasts the highest possible environmental standards, is beautifully maintained and has excellent visitor facilities. Southway Housing is now the only housing association in the North to get the Green Flag Award and only the 2nd in the whole of the UK to obtain it as a housing association!
To achieve the award the area had to meet standards in these 8 areas: 
A welcoming place
Health safe and secure
Well-maintained and clean
Environmental management
Biodiversity, landscape and heritage
Community involvement 
Marketing and communication
Management  
What did we do?
In 2016, we were successful in winning an £8,000 Tesco Bags For Life Grant. This money went to improving the Barlow Moor Green Spaces along Darley Avenue, Mottram Avenue and Leeswood Avenue – which now provide a place for the community to come together and use the space.
We put the grant to good use by developing the housing association's Barlow Moor Green space into an area for the whole community to enjoy. Street games, herb and heritage gardens, communal veg planters and art features were all installed to transform the space.
We worked with the four local primary schools (Barlow Hall, St Ambrose, Chorlton Park and Brookburn) to plant a Heritage Garden. This started with workshops at each school, where pupils learnt about traditional herb gardens and planting. Each class then designed part of the Herb Garden and an area for climbing plants.
We also made improvements that benefited wildlife in the area by installing lecterns that double up as insect homes, planting a bee friendly bulb mix and fruit-bearing trees to encourage local birdlife to feed.
To allow the community to get involved in the project, planters were installed and an orchard created on Mottram Avenue by planting a mix of Apple, Pear, Plum and Cherry trees. Residents have already set up a gardening group to grow vegetables and are looking forward to the first harvest.
"The aim of this project was to create an area that the whole community can use and appreciate regardless of their age or background, and we hope this has now proved to be a success. Not only are we proud of our green spaces and the way we improve them for our residents, but we're thrilled to be able to say we are one of only two housing associations to attain Green Flag status for the high standards we maintain them to."

Richard Eccles, Urban Ranger for Southway Housing Trust
"We are delighted to be celebrating another record-breaking year for the Green Flag Award scheme. Each flag is a celebration of the thousands of staff and volunteers who work tirelessly to maintain the high standards demanded by the Green Flag Award. The success of the scheme, especially in these challenging times, demonstrates just how much parks matter to people."

Paul Todd, International Green Flag Award scheme manager