Work is now underway on a large much-needed supported housing facility on Abbey Hey Lane, Gorton, being delivered by not-for-profit company Southway Housing Trust.
£7 million grant funding was secured from Homes England to build the 106 extra care apartments, which will provide 43 one-bedroom and 63 two-bedroom flats for social rent to over 55s, and cater for a mixture of care needs.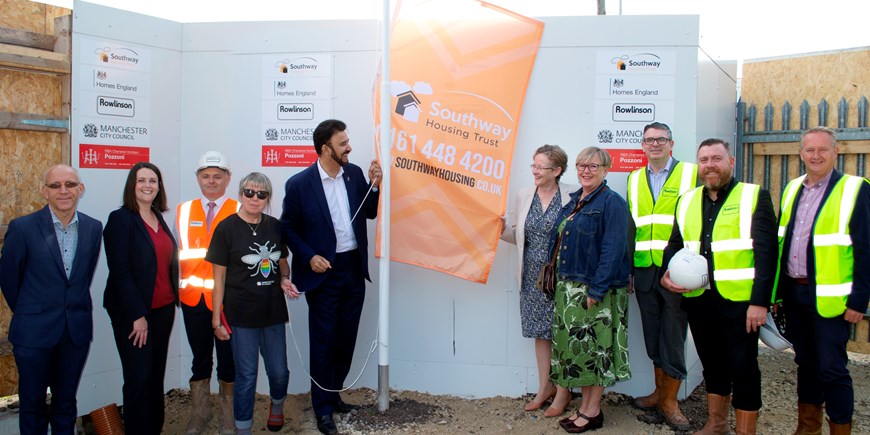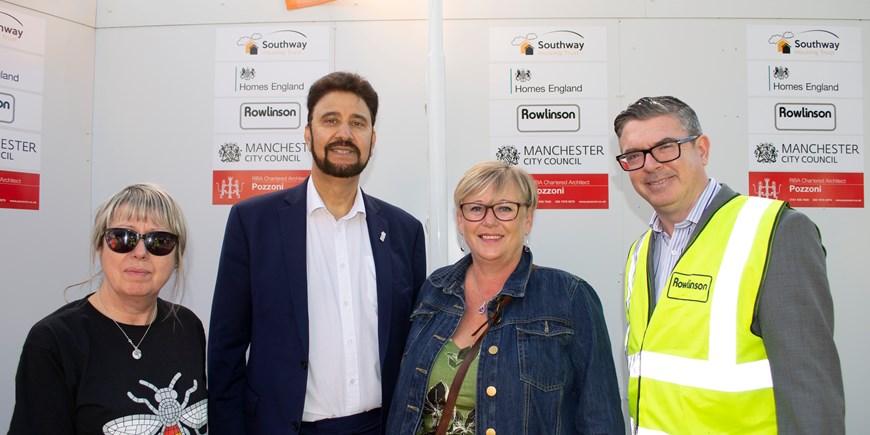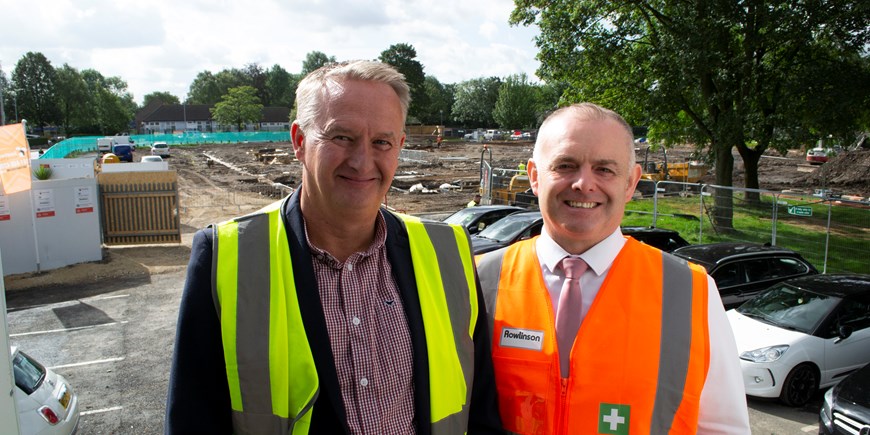 The scheme will also include a bistro and beauty salon at the front of the building, which will be open to the public, as well as a private car park and a large community garden.
 Southway is working in partnership with Rowlinson Construction, Pozzoni Architects and Nicol Thomas on the project. The works are due to be completed in summer 2021.
 This week the flag was officially raised on the site by these organisations along with MP for Gorton Afzal Khan and local Councillor Julia Reed.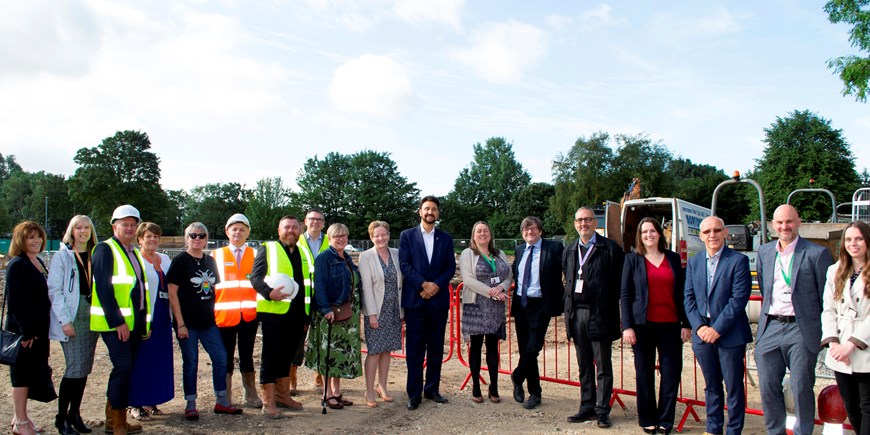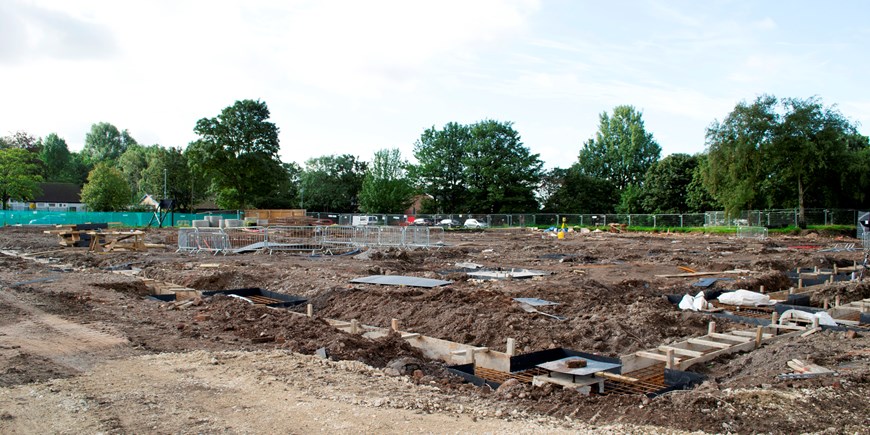 They are pictured here alongside others from the large project partnership which includes representatives from the local school Abbey Hey Primary and Manchester Ambition for Ageing's Paul McGarry.
The school has been able to use the project to educate students on development and construction topics. It holds a special significance as it is the school that Southway's Chief Executive Karen Mitchell and Councillor Julia Reed themselves attended.
Linking into the £10 million Ambition for Ageing project has ensured that its innovative research and findings were applied to the design and build, ensuring it is as older resident-focussed as possible.
It was also key that elements of the site's green space were retained as it was highly valued by local people. Southway has incorporated the existing community planters into the new community garden's design and made sure to invest in the environment.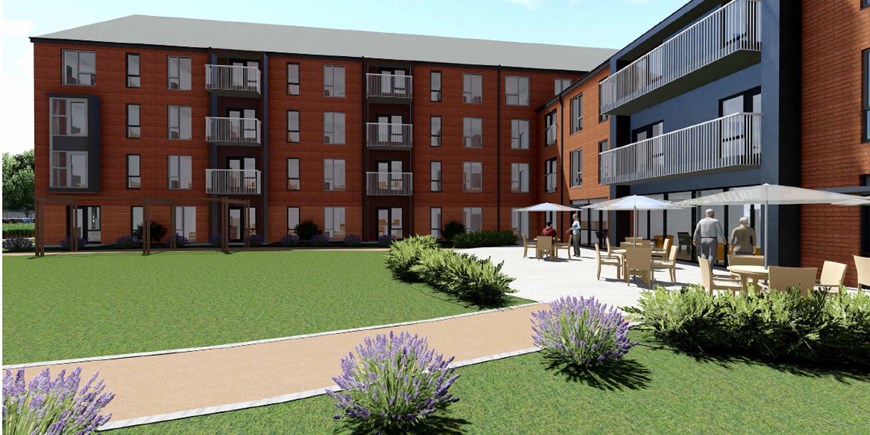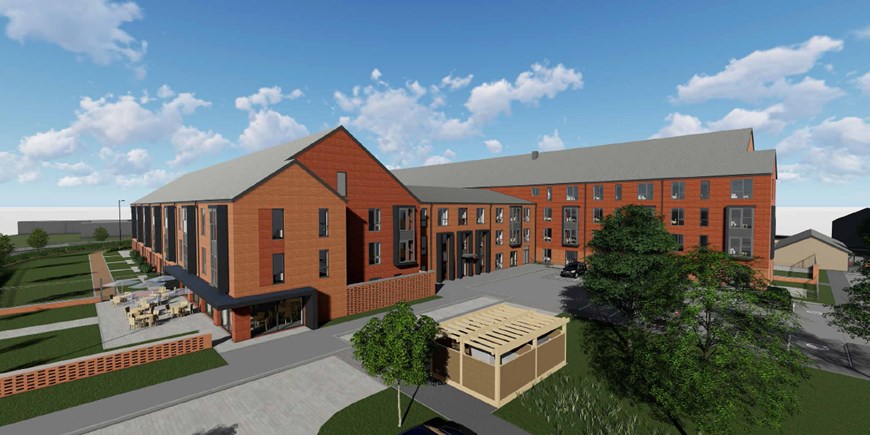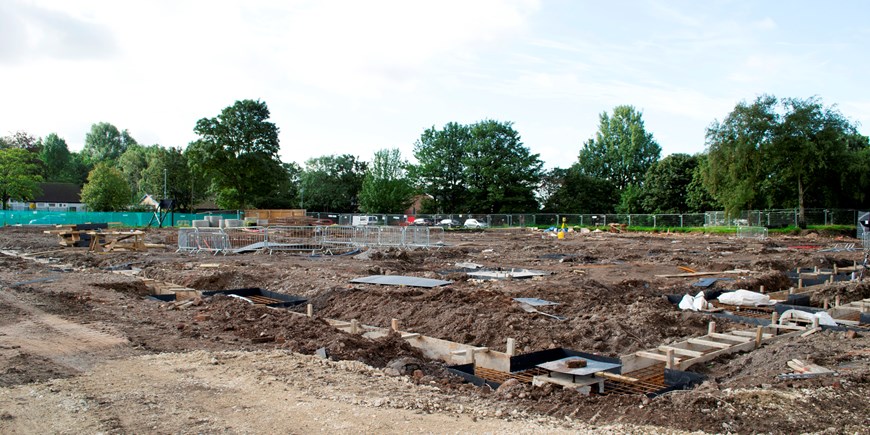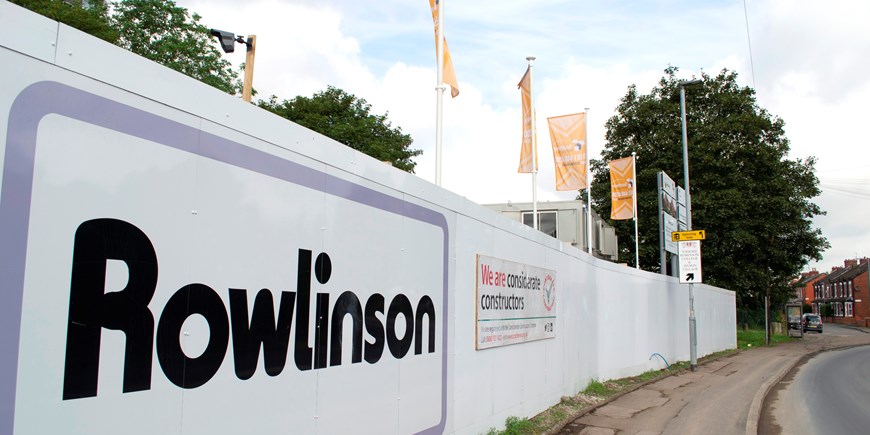 Karen Mitchell, chief executive of Southway Housing, said: "This scheme is our second large extra care project of this year, born from a great need and demand for extra care facilities in this area. It will create a wonderful community and environment tailored for older residents, whilst freeing up other much-needed homes for young families too. I'm very proud to have the opportunity to do this in Abbey Hey, an area we've wanted to extend Southway's work into for a while.
We've designed this development with help from other local organisations to ensure that it provides something which really adds to the community and has regenerative effects on the neighbourhood.
This work will make sure that from the minute residents move in here they will find community, support, and a great living experience."
Councillor Julia Reed said: "Against the background of the government cuts it's brilliant that we can still provide an Extra Care Facility for over 55s which we truly need. This will help a range of older people who are looking to downsize, who might have disabilities, or might currently be isolated - we're creating community for these people.
It's very close to many other fantastic award-winning Gorton facilities; we've got a community centre next door, which has now been asset transferred. Although we had difficulties initially convincing local residents of what was going to happen to this much-loved site, the plans have been carefully considered with the area in mind and we look forward to the finished build."
Afzal Khan, MP for Gorton, said: "I saw the potential in this area for Extra Care and I'm now looking forward to seeing it become a reality, as I think it will make a huge difference, not just to those moving in, but also to the whole area.
 I'm also excited about the community engagement element of the project, because of the facilities this build brings, and the partnership work taking place between the school and community centres.
With this and their other award winning Gorton development Southway is clearly helping me to lift the area, so I thank them!"