As a member of the Greater Manchester Good Employment Charter, we're very proud to support Manchester's Good Employment Week from 19th to 23rd June. 
This pioneering event is about raising awareness of what good work looks like, celebrating the work we and our partners do to be good employers, and sharing information about the employment standards that we believe everybody is entitled to. 
We know that having a good job and secure work can be truly life-changing. It goes beyond just having a steady income; it also gives people a sense of purpose, dignity and confidence. When you have a stable job, you can plan for the future, take care of your family and pursue your goals, as well as giving you access to things like healthcare, education and further opportunities.  
To find out more about Good Employment Week, please visit www.goodemploymentweek.co.uk, where you'll also find a quiz that will guide you through seven elements of good employment and provide you with some useful resources to help you understand how your job might be improved. 
In celebration of Good Employment Week, we'd also like to share a little bit about just some of the work we do here at Southway to create an environment where our staff feel valued, appreciated and supported. 
Equality, Diversity and Inclusion (EDI)

 
This year, we were very proud to be awarded 'Best for Inclusion' by the Greater Manchester Good Employment Charter. We also received a letter of congratulations from the Mayor of Manchester, Andy Burnham, in recognition of our achievements. These accolades underscore our commitment to building an inclusive environment for our staff, tenants and communities.  
At Southway, we use corporate groups to foster collaboration, promote diversity and inclusion, improve our policies and practices, and make us the best employers we can be. By actively listening to our workforce and implementing their feedback, we've created an award-winning inclusive culture that values employee wellbeing and satisfaction. These groups include our Staff Consultative Group, which helps shape our policies, practices and services; plus our EDI Core Group, which helps shape our commitment to creating a safe, inclusive and non-biased workplace, and will soon be supported by an employee group of EDI champions and allies.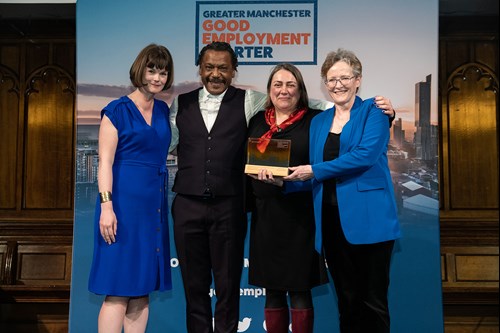 Health and Wellbeing

 
Southway owes its success to the individuals who work here, and we recognise that – for our staff to work hard for our tenants, residents and communities - it's essential that we take care of their health and wellbeing.  
By nurturing our employees' overall wellbeing, we not only create a positive workplace but also provide our staff with the tools and support they need to thrive, inside and outside of work.  
We proudly offer a full EAP Healthshield health and wellbeing plan to every valued member of staff. This includes money back on dental appointments and eye tests, access to Anytime GP and free 24/7 counselling, plus private prescriptions and access to apps that support you, your physical and mental health, and your general wellbeing.  
Our health and wellbeing offer is underpinned by policies and procedures that support our staff when they need it most. We offer as many of as 38 days of paid annual leave, with the option to buy more and pay it back over the year. Not only that, but office staff can also accrue up to 12 additional days of leave a year through our flexible working policy. This allows employees to maintain a healthy work-life balance, contributing to their long-term happiness and productivity.  
We know that nobody likes being unwell. However, if you do need to take time off work due to sickness, our comprehensive support package (after a qualifying period) offers staff some security and reassurance in the form of sick pay and other support to help with their recovery and return to work.  
Training and Development
We've made a corporate commitment to create a comprehensive training and development framework that will help every individual and team at Southway reach their full potential.  
These opportunities will enable us to fulfil our social and corporate objectives, ensuring that we're successful together and that our staff feel valued, motivated by our shared vision, and trusted to do the right thing.  
As well as job-specific training, we also support staff to develop in their future careers by funding technical qualifications or training that focuses on professional development e.g. management training.  
To find out more about working at Southway, what we can offer you as an employer and any live vacancies, please visit our Careers page at www.southwayhousing.co.uk/careers/  
Our Employment Support service
Gaining employment has the power to change your life. It opens a world of possibilities, allowing you to grow personally and professionally, as well as providing you with a sense of belonging and fulfilment. With that in mind, our Employment Support service is available to help you, our tenants, make the most out of the services available to you.  
Our Employment Support service offers Southway tenants: 
Access to job clubs and employment

events like job fairs

 

Advice on everything from creating a CV and interview skills to job and apprenticeship opportunities and applications

 

One-to-one support on finding work

 

Advice and networking opportunities to help you start or grow your business

 
To find out more about our Employment Support service, please visit www.southwayhousing.co.uk/support-services/employment-skills-training/