Over thirty participants arrived at Chorlton's Darley Avenue in the autumn sunshine for Southway's guided fungi walk on Saturday 15th October. The walk was led by Urban Ranger, Debbie Wallace and a local fungi enthusiast, who shared his knowledge with the group, demonstrating and explaining the identification points of different fungi.
Blue Roundhead mushrooms were growing underneath the raspberry bushes on Darley Avenue. One of the features of this mushroom is their slimy cap. Other mushrooms change colour when they are cut open and the inside is exposed to air, such as the Agaricus mushroom which stains red as the flesh oxidises.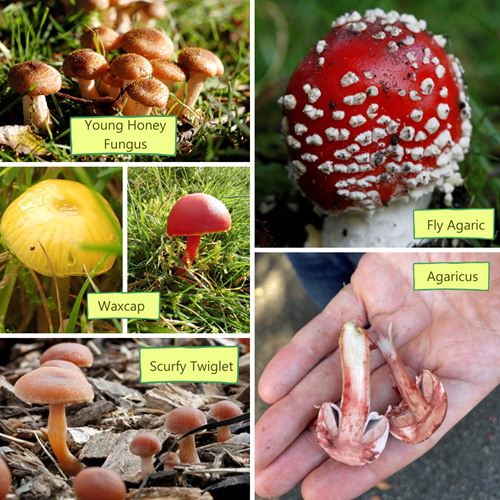 We use a lot of wood chip on our green spaces to mulch around trees and shrubs, and many types of fungi grow on woody material. One young mushroom-spotter examined a mushroom that was still growing on a piece of wood chip. Another young mushroom spotter managed to find fungi high and low, including a Birch Polypore bracket fungus growing mid way up a tree, and a Fly Agaric mushroom growing at the base.

The walk took participants from Darley Avenue on to Mottram Avenue to look at some special grassland species, through Southern Cemetery, and finally into the new Wintermans Road woodland area on the Arrowfield estate. Despite the planting at this site only being in its first year, the eagle-eyed fungi spotters found 14 different species of mushrooms within just 10 minutes!

If you'd like to take this fungi-finding walk yourself, head to the green spaces along Mottram and Darley Avenue in Chorlton.