Southway is replacing diesel vans with a new eco fleet of 100% electric vehicles as part of its commitment to creating low carbon communities. This investment in a reliable, and more environmentally friendly fleet of vehicles, will ensure we are fit for the future while maintaining reliable and efficient customer services. To celebrate, we're running an artwork competition for South Manchester primary school aged children on the theme - 'What I love about the environment'. The winning artwork will be digitally reproduced by a graphic designer and featured on one of our new electric vans.
The submitted artwork can be physically or digitally drawn and should be A4 size, and should include the name, age and address of the entrant. You can submit your entry in either of the following ways by Sunday 30th April:
1. By emailing communications@southwayhousing.co.uk with 'Artwork competition entry' in the subject line and attaching a scan, photograph or digital copy of the artwork.
2. By posting or delivering a physical copy of the artwork, marked up as 'for the attention of the Communications team', to Southway Housing Trust, Southern Gate, 729 Princess Road, Manchester, M20 2LT.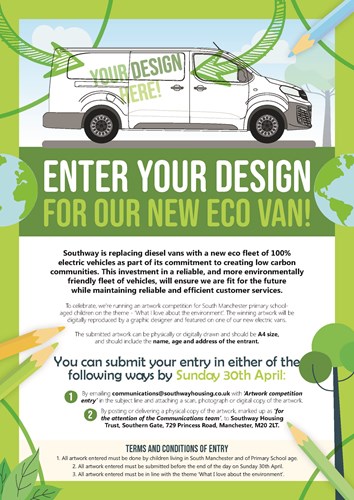 TERMS AND CONDITIONS OF ENTRY
1. All artwork entered must be done by children living in South Manchester and of Primary School age.
2. All artwork entered must be submitted before the end of the day on Sunday 30th April.
3. All artwork entered must be in line with the theme 'What I love about the environment.