Please include your name and address and as much detail as you can give about the issue or query.
We are open 8.30am-5.30pm, Monday to Friday, and will reply to you within 24 hours of receiving your message.
You can also contact us:
  by Facebook
View our Facebook page. You can reach us on Facebook 9am-5pm, Monday to Friday.
 by Twitter
Tweet us @southwayhousing. You can reach us on Twitter 9am-5pm, Monday to Friday.
  by phone
To pay rent
Call 0161 448 4200
Press 1 for Rent Account
Press 1 to make your automated payment
The payment is made by bank debit card or credit card. Have your rent reference handy (you can get this via your rent card or your online account) and follow the step-by-step instructions. 
Click here for ways to pay rent and for other services about rent and money.
For other queries
Phone 0161 448 4200, 8am-5.30pm, Monday to Friday.
 in person
You can to speak to us in person or via post at the below address (accessible by bus stop; travelling south Mersey Crecent, Manchester M21 7QA, travelling north toward city centre -  bus stop St Andrews School Manchester M20 2ZE) Parking available in front of office location.
  by post
Southway Housing
Southern Gate
729 Princess Road
Didsbury
M20 2LT
(Please enter Southway Housing into sat nav / google maps as postcode can be inaccurate - note location below next to  Christ Church West Didsbury)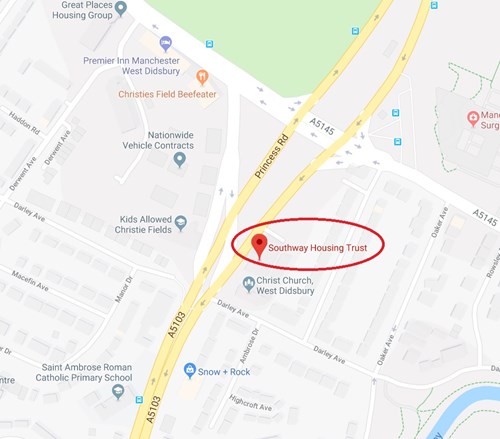 Press and media enquiries