We have been doing our best to carry out repairs and deliver other services to your home during the pandemic, but with changing government restrictions, and our own staff being affected by Covid-19 and isolation rules, there are a few crucial updates to our services and timescales. We appreciate and thank you for your patience and understanding during this difficult time.
SERVICE UPDATES
July/August 2021
We are putting all our efforts and resource into catching up on our repairs backlog but we aren't quite there yet; there are a few bumps in the road that many organisations are facing at this time.
With Covid-19 restrictions relaxing, there is an increase in Test & Trace notifications and therefore with staff being asked to self-isolate at short notice.
This makes it difficult to plan in repairs and our workforce numbers less predictable each week. Unfortunately, this will inevitably lead to cancellations of some repairs or longer waiting times.
We are very sorry for any inconveniences this may cause; we assure you that we are doing all we can to minimise disruptions and provide you with the best service possible at this difficult time.
We thank you again for your continued patience and understanding throughout this period.
June 2021
We continue to follow our current road map (shown below) and are well over halfway to completing the first backlog of repairs. We reviewed our priority timescales for all repair categories and they will remain the same, with a further review in September.
As many parts of the North West begin to see cases of Covid-19 rise with the new Delta variant, please ensure you continue to follow the guidance when our operatives are in your home; hands, face, space and fresh air.
The construction industry is also facing a shortage of building materials in part due to disruption at ports caused by the pandemic and a boom in the housing sector. Currently, our suppliers are still able to provide most of our materials, however, we will be carefully monitoring the situation.
Your continued patience and understanding are much appreciated during these difficult and challenging times.
May 2021
Our current road map is shown below; in addition, we have completed our backlog of Gas and Electric repairs and are now taking and booking non-emergency repairs as normal for Gas and Electric. Note; If you call for a different non-emergency, your repair will be put into a backlog as shown below: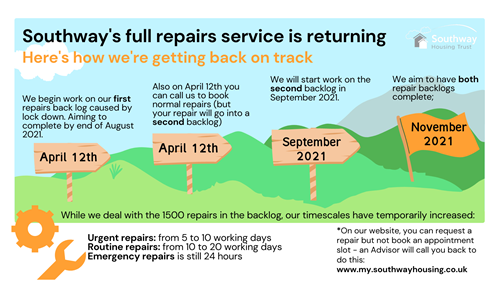 UPDATE: January 2021
Booking a repair
As of January 6th 2021 and in line with new lockdown measures across the UK, our repairs and maintenance service will be restricted to emergency or urgent work*.  All non-essential work will be completed if already underway, but no new or follow on non-essential works will begin and we have now stopped non-urgent backlog repair work until further notice. 
Void work and major works with safety and legal issues will continue, as will external works and gas safety work.
This will be reviewed in mid-February.  
*When you book a repair, it will be put into one of the categories below.
We will aim to complete the repair within the timescales given:
Emergency Repairs to be completed within 24 hours; This repair priority will only be used when there is an immediate threat to the health, safety or security of a customer, occupant or property.
Urgent Repairs; we will aim to complete these within 20 days, however, we will aim to do the highest priority repairs within 10 days. An urgent repair is classed as something that seriously affects your comfort such as an intermittent leak or isolated failure of electric points or radiators.
Non-urgent repairs (low priority); Temporarily suspended
Major Works; If deemed urgent we aim to provide an appointment within 20 days of the assessment. Other major works e.g. major plastering works, external works (fencing & gates), painting (excluding mould treatment), brickwork, and paving, will be put into a longer-term schedule of works.
Non-urgent follow-on works; Temporarily suspended 
Service delay; We have a backlog of routine repairs leftover from the lockdown earlier this year; we will provide updates on timescales when we are able to.
We apologise in advance for any changes that have to be made to your appointments at this time.
Additional service arrangements - Neighbourhood Services
For general housing or tenancy matters (not rent or repairs) that are not resolved on first contact:
Due to the unprecedented demand on our services (combined with staff shortages as a result of lockdown and COVID 19) we are currently prioritising requests for our Neighbourhood Services Team based on urgency.  It therefore may take officers up to 5 working days to respond to your request (this will also apply to email contact.) 
We will continue to try and deal with urgent requests within 24 hours. 
Urgent requests are generally reporting issues that pose a threat to the health and safety of our customers.
Please be assured that we are keen to resume normal service as soon as possible and are working hard to achieve this. We thank you for your understanding and patience at this difficult time.
Health and Safety when Southway Housing Trust visits your home
To protect yourself and our staff, it is essential that you follow our health and safety guidelines when we visit your home and you will be asked a number of questions before we visit:
Health and Safety - Home visit guidelines
If you do not follow these guidelines, our staff members have been instructed to leave the property.